K&F Concept 49 mm Variabel ND-filter Verstelbare fader Neutrale dichtheid ND2 - ND32-filter, GEEN Spot X Black X-probleem, MRC 18-laags, Ultraslank, Waterdicht
&Gratis verzending naar Netherlands, Belgium
Merk:

K&F Concept

Koop K&F Concept k&f concept 49 mm variabel nd-filter verstelbare fader neutrale dichtheid nd2 - nd32-filter, geen spot x black x-probleem, mrc 18-laags, ultraslank, waterdicht online, gratis verzending en 30 dagen retourgarantie.

KF01.1166

Model:

KF01.1166

36.99

https://nl.kentfaith.com/KF01.1166_k&f-concept-49mm-fader-nd-filter-neutral-density-variable-filter-nd2-to-nd32-for-camera-lens-no-x-spotnanotecultra-slimweather-sealed
Kenmerken
• 【Materiaal】 ND-filter: gemaakt door een voltooide professionele optische bril in plaats van optische hars. filter vermindert de opname van licht zonder de algehele kleurbalans te beïnvloeden.
• 【Geen "X" -kruis op afbeeldingen】 Zeg vaarwel tegen het "X" -kruis op afbeeldingen, K&F maakt gebruik van de allernieuwste technologie en u neemt afscheid van dit veelvoorkomende probleem met groothoeklenzen en variabele ND-filters.
• 【NANOTEC】 Onze optische ingenieurs hebben nieuwe Nano-coatinglaagtechnologie ontwikkeld, waterdichte, krasbestendige, antireflecterende groene coating, die effectief voorkomt dat olie, vingerafdrukken, krassen, gewaardeerde lens beschermen.
• 【Professioneel ontwerp】 Ultradun velgontwerp dat groothoekafval voorkomt. Extra stevig aluminium luchtvaartframe dat duurzaamheid en blokkering voorkomt.
• 【OPMERKING】 Deze filterset is compatibel met alle 49 mm lenzen. Controleer de grootte van de lensdraad van uw camera (meestal ergens op de lenscilinder gemarkeerd of onder de lensdop afgedrukt) voordat u bestelt. Het nummer wordt altijd voorafgegaan door een "ø" (diameter) symbool.
ND-FILTER
Vermindert de hoeveelheid licht die de lens binnenkomt, waardoor de sluitertijd van de camera wordt verkort. Handig voor situaties waarin bewegingsonscherpte moet worden gecreëerd (rivieren, watervallen, bewegende mensen) of grote diafragmaopeningen moeten worden gebruikt met flits om overbelichting te voorkomen.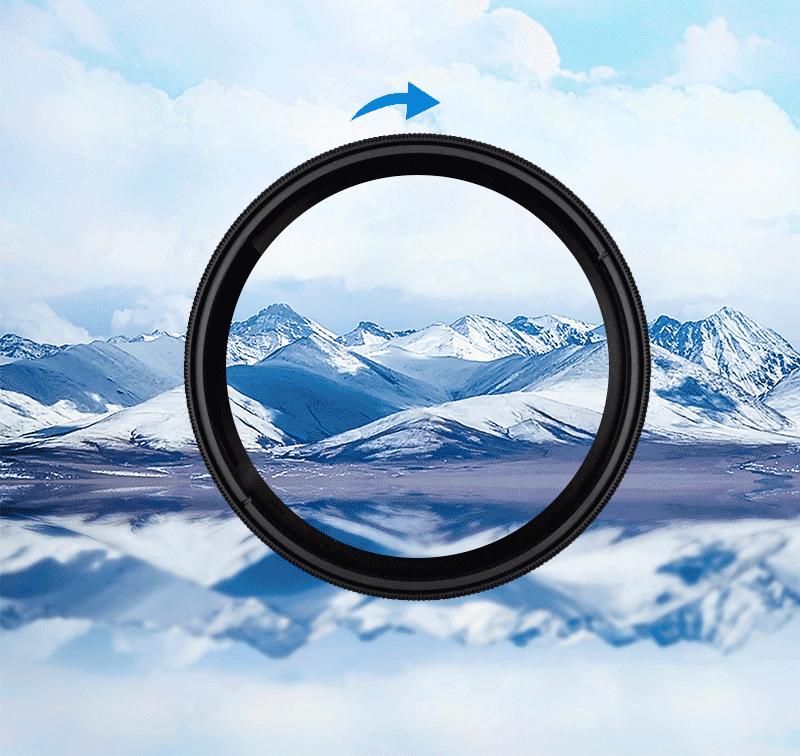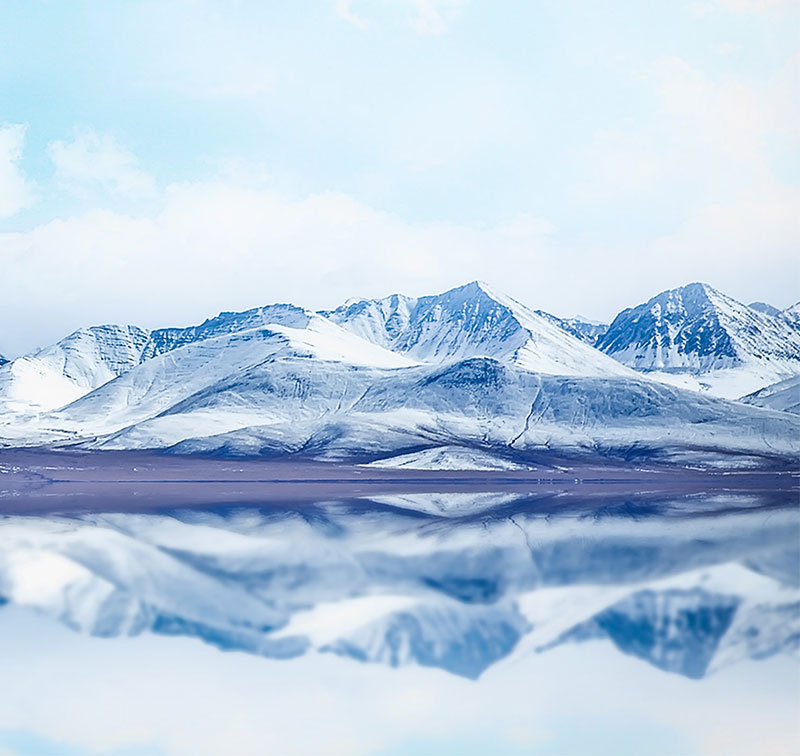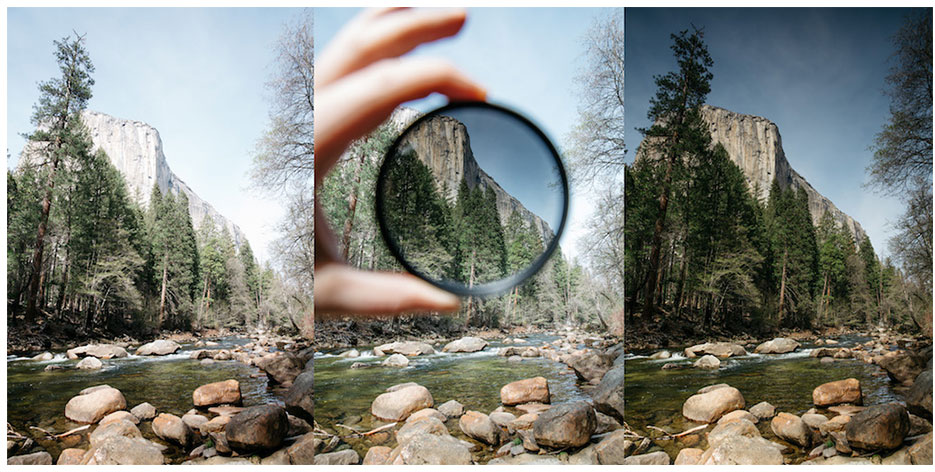 Zonder ND-filter
Gebruik contrast
Met ND-filter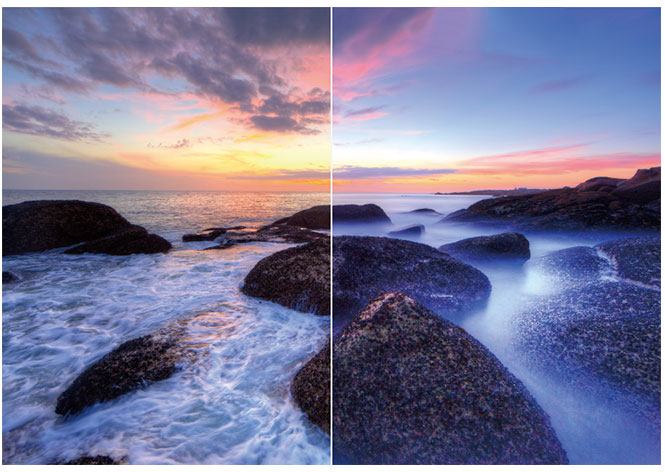 Zonder ND-filter
Met ND-filter
Maakt het mogelijk lange sluitertijden te gebruiken om bewegingen vast te leggen in onderwerpen zoals watervallen, waardoor stromend water een zijdezacht effect krijgt.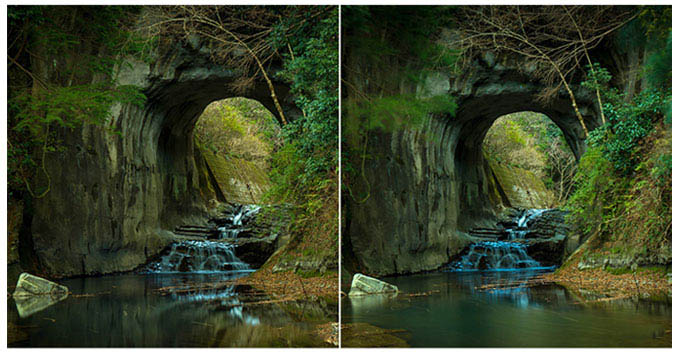 Zonder ND-filter
Met ND-filter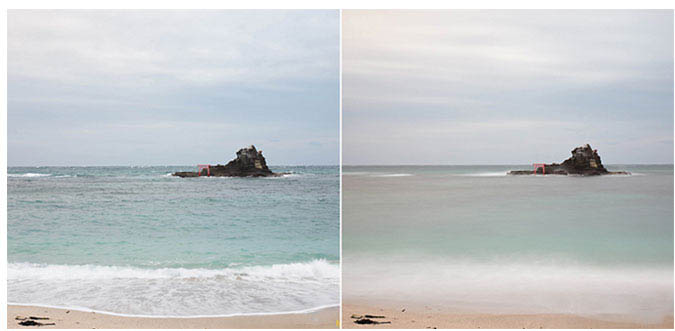 Zonder ND-filter
Met ND-filter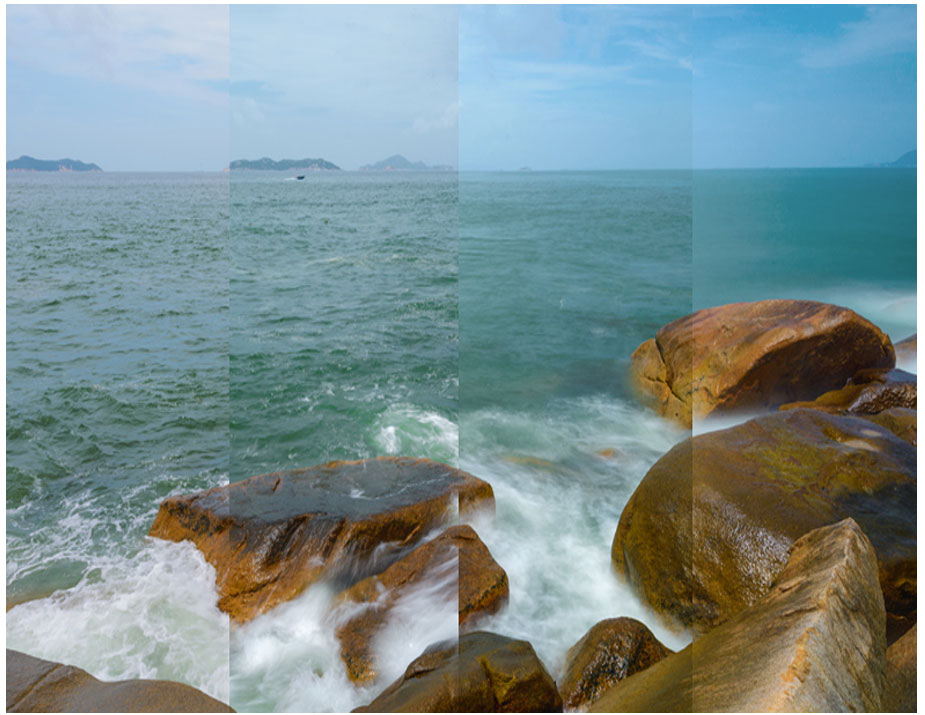 GEEN ND
ND8
ND64
ND1000

Geen filter
ND2
ND4
ND8
ND16
ND32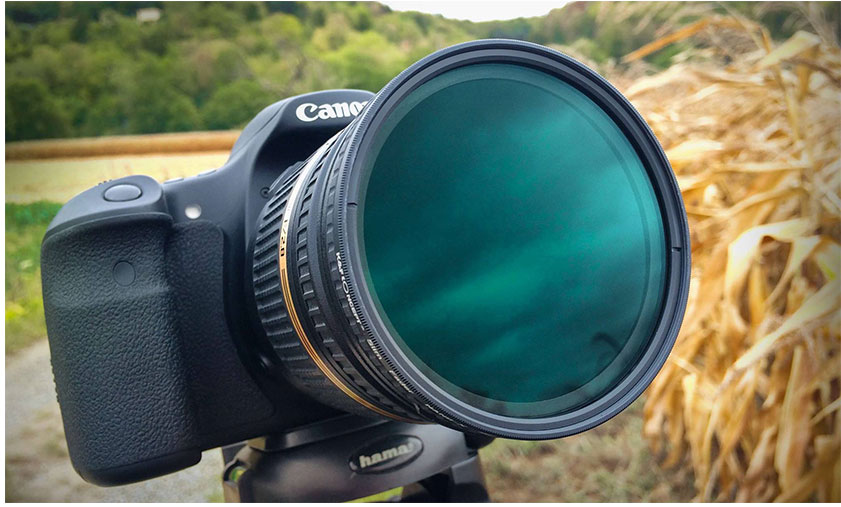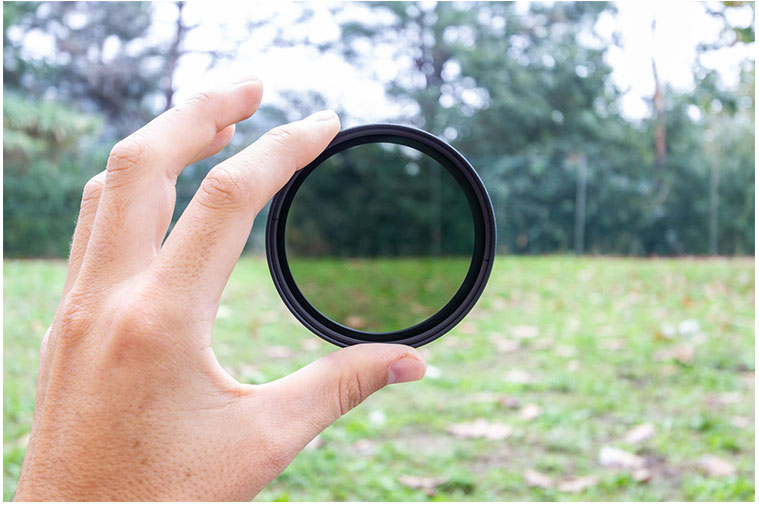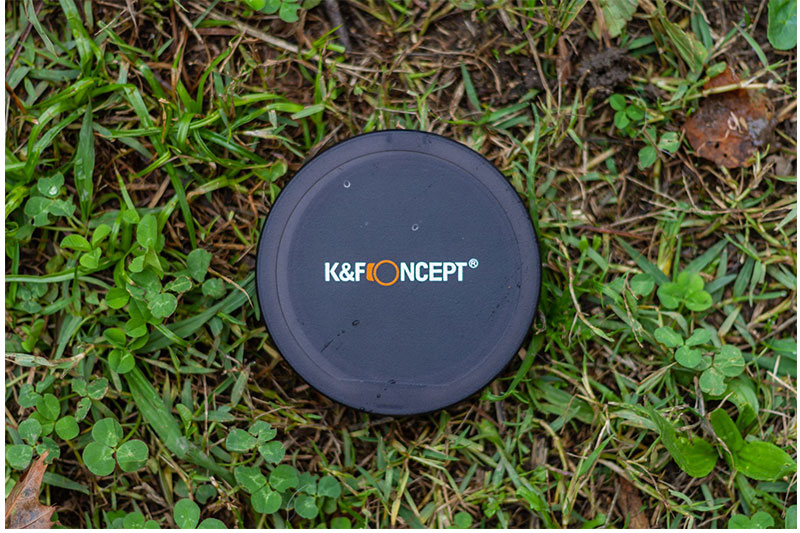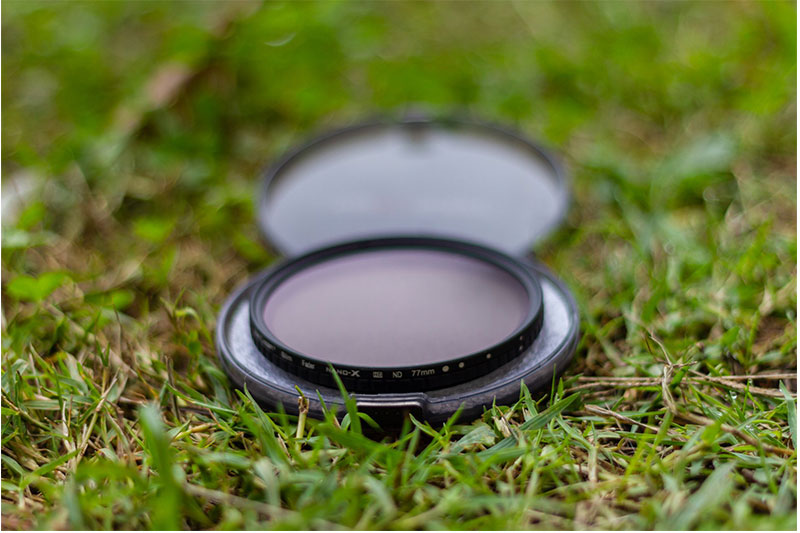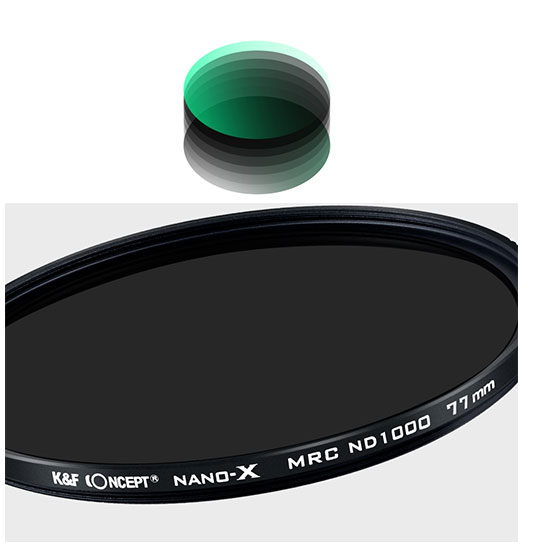 Meerlaagse nanometercoating
Vermindering van reflectie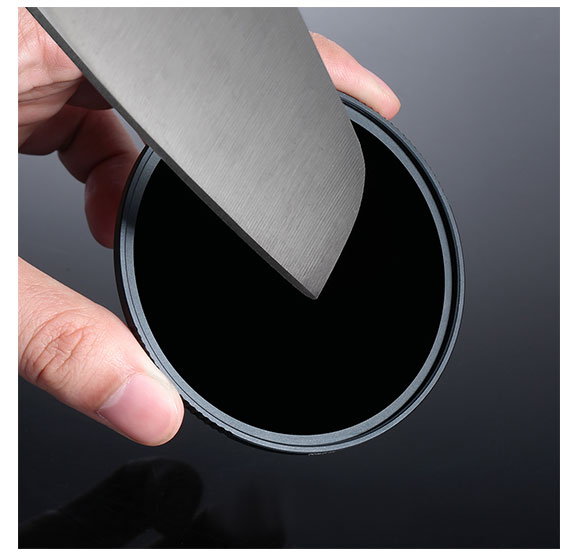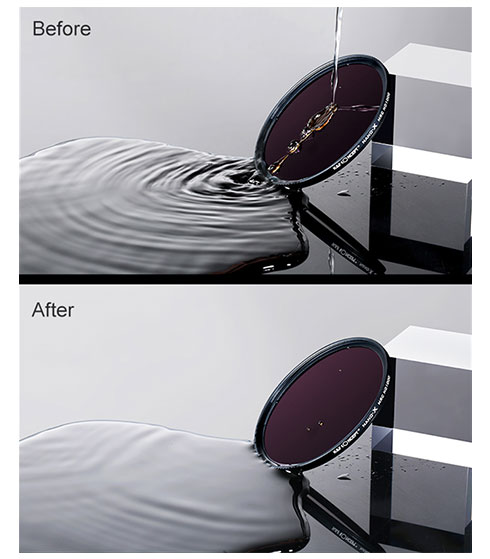 Nanometercoating
Maakt het mogelijk lange sluitertijden te gebruiken om beweging vast te leggen in onderwerpen zoals watervallen, waardoor stromend water een zijdezacht effect krijgt.
| | | | |
| --- | --- | --- | --- |
| ND-nummer | Optische dichtheid | f-stop reductie | Fractionele doorlaatbaarheid |
| | 0 | 0 | 100% |
| ND2 | 0,3 | 1 | 50% |
| ND4 | 0,6 | 2 | 25% |
| ND8 | 0.9 | 3 | 12,50% |
| ND16 | 1.2 | 4 | 6,25% |
| ND32 | 1.50 | 5 | 3,13% |
| ND64 | 1.8 | 6 | 1,56% |
| ND100 | 2 | 6 2 ⁄ 3 | 1% |
| ND128 | 2.1 | 7 | 0,78% |
| ND256 | 2.4 | 8 | 0,39% |
| ND400 | 2.6 | 8 2 ⁄ 3 | 0,25% |
| ND512 | 2.7 | 9 | 0,20% |
| ND1024 / ND1000 | 3 | 10 | 0,10% |
| ND2000 | 3.3 | 11 | 0,05% |
| ND4000 | 3.6 | 12 | 0,025% |
| ND8000 | 3.9 | 13 | 0,0125% |
| ND32000 | 4.5 | 15 | 0,003% |
Great for motion blur and wide aperture video
I'm always dubious when it comes to filters as I have seen some cheap ones in that past that really degrade image quality. This neutral density film seems really good though.It seems well made and screws on nicely on my canon EF-M lenses. The twisting adjuster works easily and smoothy and has the various stops marked on it.Performance is really good too. There doesn't seem to be a vignette or any other visible marks or patches on photos. The photos seem to be just as sharp and have the same quality as when shooting without the filter. I can't tell any difference. It comes in a nice holder although this is way bigger then the filter itself.The range of stops on the filter is good too and helps to slow things down for some major motion blur. It also works well for open aperture video. For the price I am really impressed with the quality and results.
29-12-2019
I have an ND 400 that I use for waterfalls etc but do not always want to block that much light so was looking for something a little faster Maybe an ND16.

I have had variable filters in the past but have never been happy the dreaded Xs on the screen when you rotate or uneven colour cast across the screen.

I saw the K&F advertised claiming that you did not get any of thease issues so thought I would try and they are great, very even light reduction across the frame and no Xs.

I have the 77mm filter it is really well made there are stops on the rotation so it it easy to tell where the limits are, the frame itself is slightly larger that the 77mm so no chance of vignetting in the corners, the slight disadvantage of this is I can not seem to fit the filter with my hood in place but not a huge deal.

Highly recommended.
24-08-2021
Best for the price
No vignette and very easy to use.. You can feel it on your hand and easy to adjust. Have some stops in both ends so much better than many other solutions
23-06-2021
Presentation is everything
I knew as soon as I opened the envelope I had bought a quality item. Inside the gorgeous black outer box is a round acrylic container which flips open at the press of a button. The Filter rests on its foam bed. It looks like quality, it feels like quality.Anyone that shoots video using a DSLR knows about camera settings and the limitations this creates in brightly lit environments. This can become a bigger problem if, like me, you like to shoot with the aperture wide open on a fast lens. It was almost impossible to do outside scenes on brighter days. To say I'm very pleased is an understatement.Pros:High quality, no dreaded X or aberrations and it only cost £36. I expected a lens of this quality to cost much much more.Cons:To be honest, there aren't any. No, I can't put the lens cap on when the filter is in place, but it's no big deal to unscrew it and place it back in its case.I am just an amateur film maker so my word counts for nought among photographers. From a film maker's point of view, however, this is a great bit of kit to have in your bag and for the money, you can't go wrong.
12-05-2020
Great Variable ND for the money
Using this on my Sony A7R3 for video workReally easy to adjustND2-32 allows you to get the 180' shutter angle quicklyComes in really high quality packagingNo X's appear on video when in useBeen out shooting in bright sunlight, really happy with the results from this ND
26-03-2020
These images belong to K&F Concept end users.
A
Hi i am about to purchase one of these filters for my lens. I think your sony fdr-ax53 video camera lens filter size is a 55mm, but please do double check. i have seen this company have got a 55mm filter, just click on the 55mm before you click add to basket. I hope this helps
A
I've never had any problems with focus using this.
A
Should darken it for you a fair bit.
Filter
maat
doorlaatbaarheid
Multi-coating
Antireflectie
waterbestendig
krasbestendig
HD
Filtermateriaal
Patroon
Filterdikte:
Vorm
Ringmateriaal
Best verkopende producten