mini game camera 12MP 1080P waterproof according to IP65 850nm Visible light Night vision camera for observation of wild animals and home surveillance with
&Gratis verzending naar Netherlands, Belgium
Merk:

K&F Concept

Koop K&F Concept mini game camera 12mp 1080p waterproof according to ip65 850nm visible light night vision camera for observation of wild animals and home surveillance with online, gratis verzending en 30 dagen retourgarantie.

KF35.006

Beschikbaarheid:

3-5 Days

35.99

https://nl.kentfaith.com/KF35.006_mini-game-camera-12mp-1080p-waterproof-according-to-ip65-850nm-visible-light-night-vision-camera-for-observation-of-wild-animals-and-home-surveillance-with-8-gb-sd-card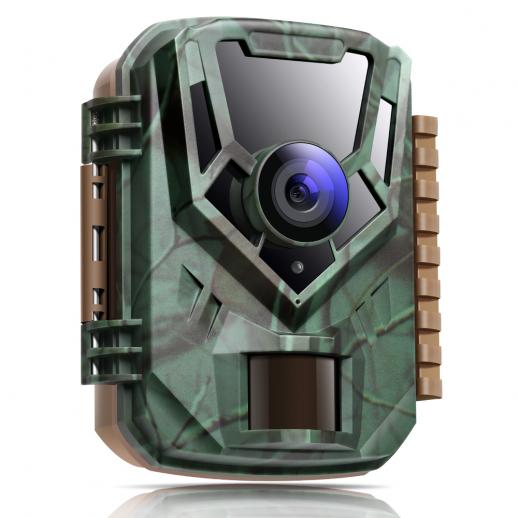 mini game camera 12MP 1080P waterproof according to IP65 850nm Visible light Night vision camera for observation of wild animals and home surveillance with
Kenmerken
• 【Market-leading mini game camera】 With the mini camera housing, the MINI301 trail camera is as small as the palm of your hand and can be held with one hand. is portable for all outdoor activities.
• 【Higher resolution】 1080P HD and 12MP trail camera ultra-high resolution deliver stunning, vivid images and clear, audible videos. The best gift idea for him.
• 【Multifunction and simplified operation】 Wildlife camera with motion detector night vision With the integrated standard functions such as time lapse, timer, series recordings, etc. the MINI301- is a very good choice. The multilingual menu makes operating the camera easy to understand.
• 【4pcs Batteries & Low Energy Consumption】 This new night vision camera only needs four pieces of batteries, which reduces the weight so you can keep it outdoors. Due to the extremely low power consumption in standby mode, the service life can be extended.
• 【Easy setup】 Ultra clear TFT LCD resolution provides a better experience while browsing images on the camera. wild camera test winner Supports TF (Micro SD) - (Free 8G card). Can be used directly ieren Format before use Gebrauch
Frequently Bought Together
Product description:
Victure off-road camera can be used for hunting or wildlife observation, as well as surveillance and home security. Our products have a one-year warranty. If the defect and damage are non-human factors, you can enjoy 1 year warranty from the date of purchase. This warranty service does not apply to cameras with the following functions:
1. Ignorance or abuse (including but not limited to water damage caused by immersion, battery leakage or improper storage).
2. Unauthorized modification or repair.
3. Due to excessive collision, heat, or improper handling, the outer casing is cracked or damaged.
4. Damage caused by wild animals.
5. The SD card and battery are not included in the package.
Product specifications:
* Image sensor: 5.0 megapixels, 1/4 inch CMOS sensor
* Lens: f=4.0 mm; F/NO=2.6; FOV=90°
* Storage: SD or SDHC card, maximum capacity 32GB (category 6 or Higher)
* Trigger time: 0.4s
* Infrared lamp/PCS: 850 nm/22 pieces, adjustable brightness
* PIR distance: 0~20M
* PIR angle: 90°
* PIR delay: 5S~60min
* Screen: 2.0 inch TFT -LCD
* Working mode: shooting/video/photo+video/time decay
* photo resolution: JPEG, 1M/3M/5M/8M/12M
* video resolution: AVI 1920X1080P/1280X720P/848X480P/640X480P
* video length: available Optional, 5s~10 minutes
* Working voltage: DC 6V
* Battery type: 4 AA Battery type LR6(AA); 4 NIMH power battery, LR6(AA) Low self-discharge capacity
* External power supply: 6V/1.5A
* Waterproof rating: IP65
* Connection: Mini USB 2.0
package List:
1x wild animal camera
1 installation belt
1x wall-mounted installation
1 USB cable
1 This manual
These images belong to K&F Concept end users.
Best verkopende producten