M42 Lenzen voor Sony NEX E Camera Adapter
&Gratis verzending naar Netherlands, Belgium
Merk:

K&F Concept

Koop K&F Concept m42 lenzen voor sony nex e camera adapter online, gratis verzending en 30 dagen retourgarantie.

KF06.067

Beschikbaarheid:

Op voorraad

20.99

https://nl.kentfaith.com/KF06.067_m42-lenzen-voor-sony-nex-e-camera-adapter
Koop 2+ items en krijg
10% korting
!
Kenmerken
• Sta M42-mountlenzen toe die worden gebruikt op de Sony E NEX / Alpha-camera.
• Compatibel met Sony E NEX / Alpha-camera's: Sony NEX-3, NEX-3C, NEX-3N, NEX-5, NEX-5C, NEX-5N, NEX-5R, NEX-5T, NEX-6, NEX-7 , NEX-C3, NEX-F3, NEX-VG10, a7, a7R, a9, a3000, a3500, a5000, a5100, a6000, a6300, a6500, a7S, a7 II, a7S II en a7R II.
• Gemaakt van messing en aluminium. Stabiele, nauwkeurige en duurzame constructie. Handmatig bediend. Onbeperkte focus toegestaan.
• Voor lenzen van het zware mediumformaat, raden we aan te gebruiken met een telebeugel en een statief om het gewicht in evenwicht te brengen tijdens het maken van foto's.
• 30 dagen geen reden retour, 12 maanden kwaliteitsgarantie, 100% tevredenheidsgarantie.
Frequently Bought Together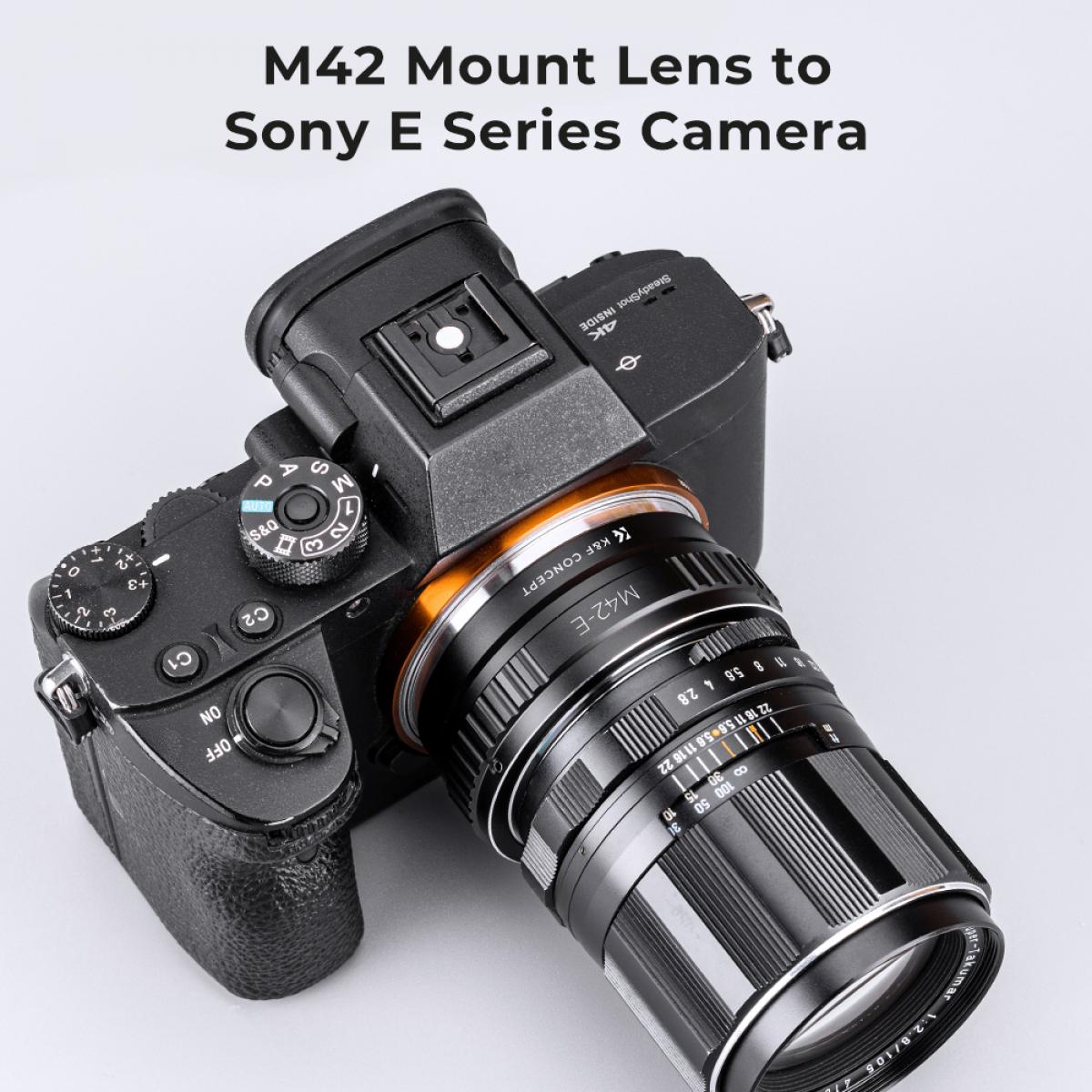 K & F Concept-ontwerp en produceren volledig assortiment lensadapters voor lenzen van Canon, Nikon, Pentax, Olympus, Leica, Contax Yashica, Minolta, Tamron, T2, C-vatting, Exakta, M39, M42, Pentacon enz. Gebruikt op cameralichamen van Canon , Nikon, Sony, Fujifilm, Pentax, Micro 4 3, Leica, M42, Cinema C-montage enz.

90% perfection
Really well made and so very fine as a design item. Works really well. Fits really well. The only weakness is the glossy internal black finish that reflects some light sometimes and creates glare in some images. Paint your barrel internal shaft matt black K&F! C'mon! I spray painted the internals after taking it apart. It only takes 30 minutes. Taking into account a top quality adapter tears your money for over £100 this is a very good adapter if you are able to paint the insides. And it is incredibly heavy, but it feels superb.
Sturdy mount, can't focus to infinity.
I was surprised with the build quality of this adapter, it being very good!However, I use a Fujinon 55mm f/1.8 manual lens with this on a Sony A6500, and I cannot focus to infinity.This is because the adapter needs to hold the lens ever-so-slightly closer to the sensor.I know it is not a problem with the lens as it focuses to infinity just fine on my actual M42 mount film camera.Any focus closer than infinity works just fine, it's just a little frustrating that I can't use this for landscape / long shots.
Good
Impressive quality. Not used too much but seems alright, easy to set-up.
perception of a good value for the cost.
perception of a good value for the cost.
Cheap and Well Made
Solid build and does the job intended.
These images belong to K&F Concept end users.
| Image | Lens | Mount | Filter Size (mm) |
| --- | --- | --- | --- |
| | 3M-5A-MC 500mm f/ 8 | M42 | 77 |
| | 3M-5A-MC 500mm f/ 8 | M42 | 77 |
| | 3M-5SA 500mm f/ 8.0 | M42 | 72 |
| | 3M-6A 500mm f/ 6.3 | M42 | 95 |
| | 3M-7 300mm f/ 5.6 | M42 | 67 |
| | 3М-7К 300mm f/ 5.6 МС | M42 | 67 |
| | A. Schacht Munchen Travenar 85mm f/ 2.8 | M42 | - |
| | A. Schacht Ulm Edixa-Mat-Travenar 135mm f/ 3.5 | M42 | 49 |
| | A. Schacht Ulm Edixa-Mat-Travenar 135mm f/ 3.5 | M42 | 49 |
| | A. Schacht Ulm Edixa-Travegon 35mm f/ 3.5 | M42 | 46 |
| Camera | Mount |
| --- | --- |
| Sony NEX-3 | Sony E |
| Sony NEX-3N | Sony E |
| Sony NEX-5 | Sony E |
| Sony NEX-5N | Sony E |
| Sony NEX-5R | Sony E |
| Sony NEX-5T | Sony E |
| Sony NEX-6 | Sony E |
| Sony NEX-7 | Sony E |
| Sony NEX-C3 | Sony E |
| Sony NEX-EA50 | Sony E |
Best verkopende producten