18 in 1 lensfilter Step Ring Set 9st Step Up Ring 9st Step Down Ring
&Gratis verzending naar Netherlands, Belgium
Merk:

K&F Concept

Koop K&F Concept 18 in 1 lensfilter step ring set 9st step up ring 9st step down ring online, gratis verzending en 30 dagen retourgarantie.

SKU0629

Beschikbaarheid:

Op voorraad

14.99

https://nl.kentfaith.com/SKU0629_18-in-1-lensfilter-step-ring-set-9pcs-step-up-ring-&-9pcs-step-down-ring
Koop 2+ items en krijg
10% korting
!
Kenmerken
• Inclusief Step Up Filter Adapter Ring Kit (37-49, 49-52, 52-55, 55-58, 58-62, 62-67,67-72, 72-77, 77-82mm)
• Inclusief Step Down Filter Adapter Ring Kit (49-37, 52-49, 58-55, 55-52, 62-58, 67-62,72-67, 77-72, 82-77mm)
• Grote strakheid, geen wiebelen of kruisdraad. Ultra-lage chemische residuen, gehecht aan een vaste stof!
• Zet de draadmaat van uw lens om naar de draadmaat van elk ander accessoire (zoals filters, zonnekappen, flitsers en lensconverters).
• Speciale luchtvaartaluminiumlegering, hoge sterkte, slagvastheid, draaiing en druk.
Frequently Bought Together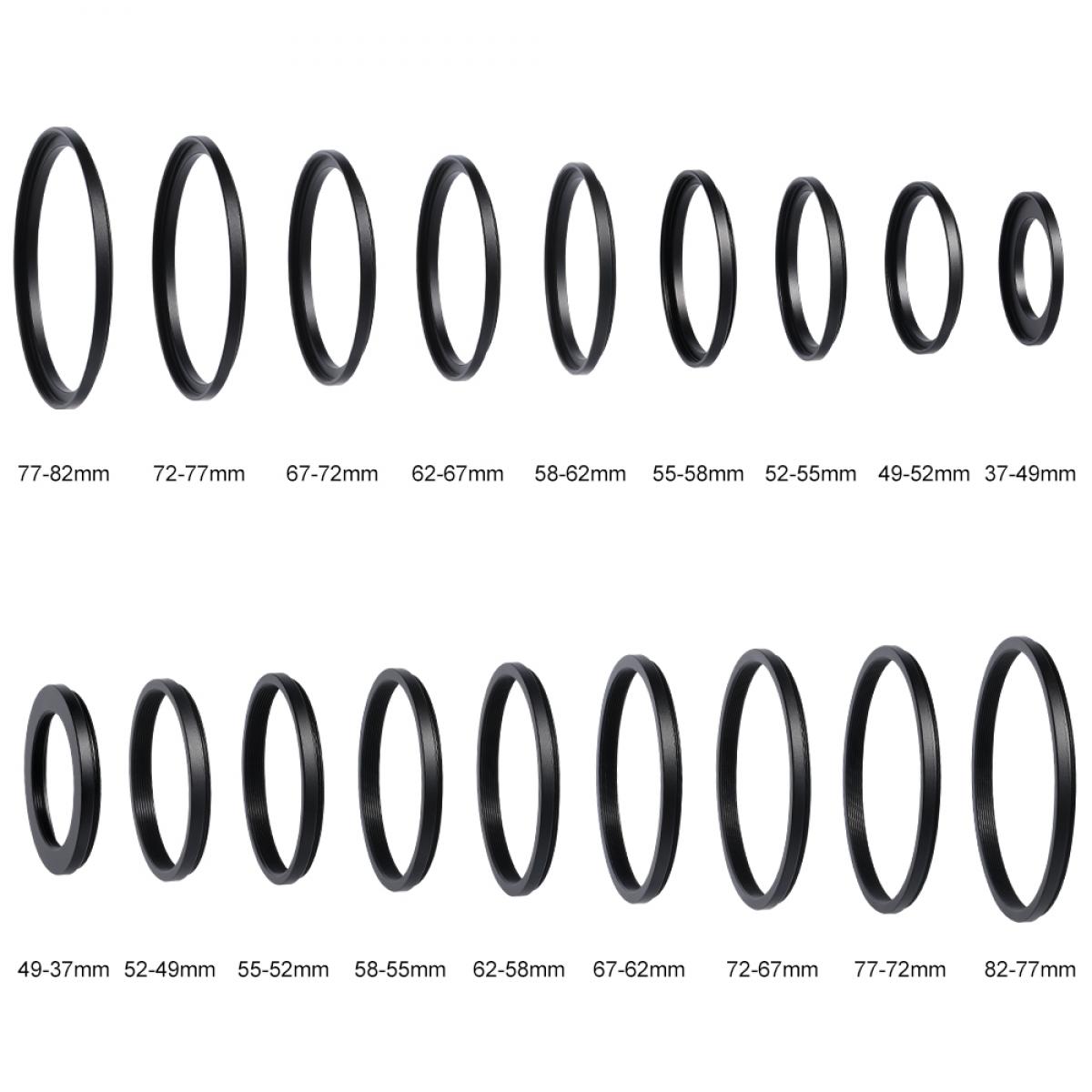 Exactly as described. Work properly.
These arrived in good condition, in 4 stacks to nest/save space. None were overtightened, it felt like some care had gone into this, with each ring screwed in enough to keep them together without risking binding.If I were to be picky, each of the two sets (up/down) came in a very cheap plastic bag and my bags had cuts in them, so not really suitable for continued storage. But I guess storage of filters or these rings is a personal thing, so not really worth the manufacturer including a nice pouch.
Excellent "complete set" of stepping rings
Note: The maker supplied a review sample for evaluation, the opinion of the product is my own personal viewThis set of stepping rings is a "one hit" solution meaning it covers every common filter size from 82mm down to 37mm with all the sizes in between you would expect. There might be a few odd compact camera filter sizes using non standard sizes not here but for SLR or ILC users this will fit every lens filter. The rings are made from anodised aluminium and I looked quite closely at the threading as well as using them on various lenses and filters I didn't have any problems the threads are well defined and clean that's quite important.Looking at the rings the first number on each one tells you the thread size for the lens the second for the filter for example a 67mm-62mm ring means you can put a 62mm filter on a 67mm lens filter size very easy to follow. Whilst it is possible to buy stepping rings that cover bigger gaps in one go (say a 77mm filer to a 55mm) you can get there with this kit just use multiple rings. Covers all you need and can save you a fortune replicating expensive filters in different sizes. A must have
Well made - solid metal
Nice set - all metal - well packed
Does as expected.
Good quality metal rings.
These images belong to K&F Concept end users.
Best verkopende producten