Nikon G Lenzen voor Canon EOS Camera Adapter
&Gratis verzending naar Netherlands, Belgium
Merk:

K&F Concept

Koop K&F Concept nikon g lenzen voor canon eos camera adapter online, gratis verzending en 30 dagen retourgarantie.

KF06.131

Beschikbaarheid:

Op voorraad

21.99

https://nl.kentfaith.com/KF06.131_nikon-g-lenzen-op-canon-eos-camera-bevestigingsadapter
Koop 2+ items en krijg
10% korting
!
Kenmerken
• Sta Nikon G / D / F-mountlenzen toe die worden gebruikt op de Canon EOS Rebel camerabehuizing.
• Compatibel met Canon EOS Rebel-camera's omvat: Canon 300D, 350D, 400D, 450D, 500D, 550D / T2i, 600D / T3i, 650D / T4i, 700D / T5i, 750D / T6i, 760D / T6s, 800D / T7i, 100D, 200D, 1000D, 1100D / T3, 1200D / T5, 1300D / T6, Canon 77D, D30, D60, 10D, 20D, 20Da, 30D, 40D, 50D, 60D 60Da, 70D, 77D, 80D, 7D, 7D Mark II, 5D, 5D Mark II, 5D Mark III, 5D Mark IV, 5Ds, 5Ds R, 6D, 6D Mark II, -1D, -1Ds, -1D X, -1D C enz.
• Gemaakt van messing en aluminium. Stabiele, nauwkeurige en duurzame constructie. Handmatig bediend. Oneindige focus toegestaan.
• Voor lenzen van het zware mediumformaat, raden we aan te gebruiken met een telebeugel en een statief om het gewicht in evenwicht te brengen tijdens het maken van foto's.
• 30 dagen geen reden retour, 12 maanden kwaliteitsgarantie, 100% tevredenheidsgarantie.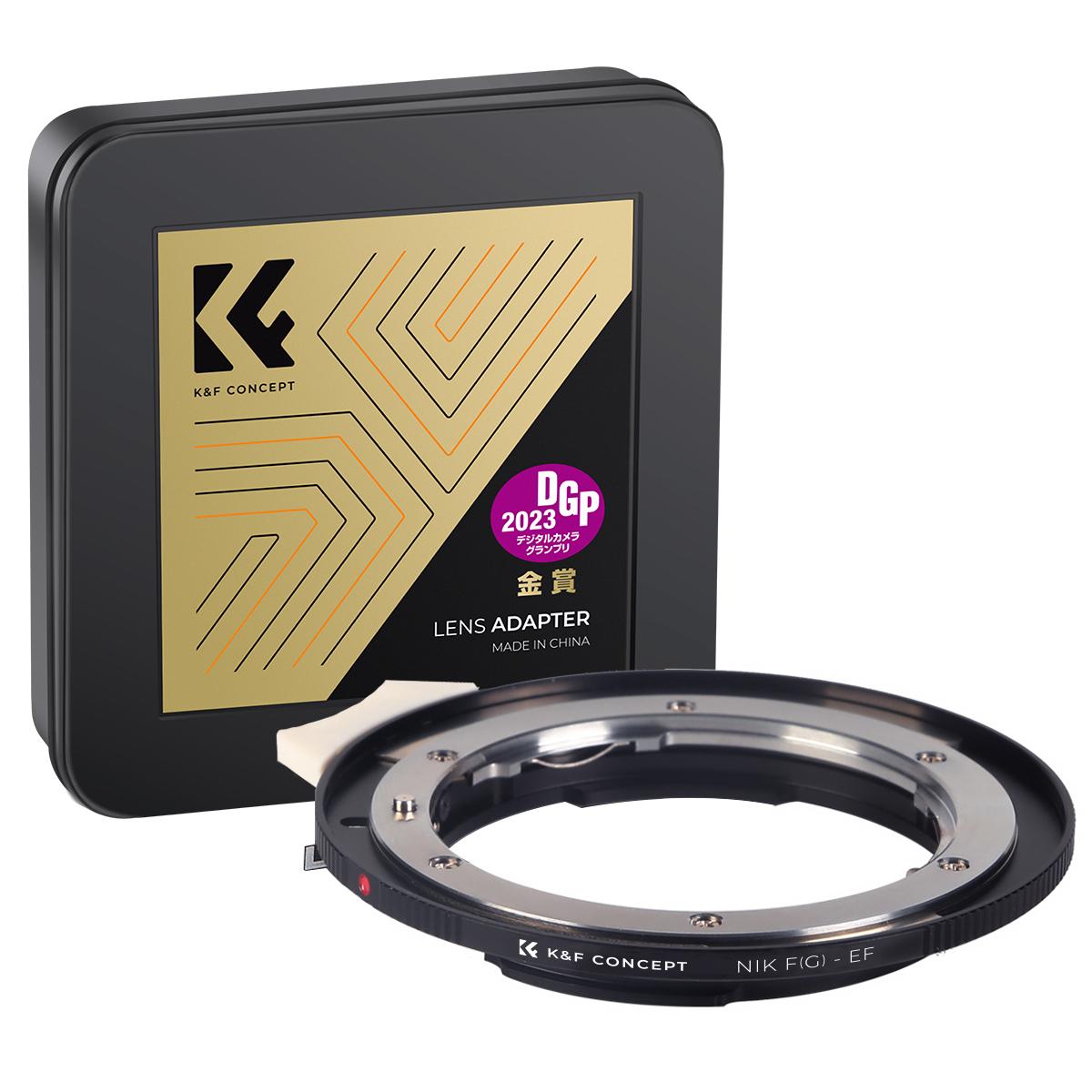 K & F Concept-ontwerp en produceren volledig assortiment lensadapters voor lenzen van Canon, Nikon, Pentax, Olympus, Leica, Contax Yashica, Minolta, Tamron, T2, C-vatting, Exakta, M39, M42, Pentacon enz. Gebruikt op cameralichamen van Canon , Nikon, Sony, Fujifilm, Pentax, Micro 4 3, Leica, M42, Cinema C-montage enz.

Sturdy with some imperfections
Sturdy mount. The aperture adjustment ring was a bit oily and surprisingly stiff. I'm also not convinced the gap it introduces is perfect as far away objects are not sharpest when I set my lens to infinity.
Nice adapter
Works great. Now I can use my Nikon g lenses on my Canon 6D, it also works with my Nikon ais f-mount lenses.
Great Lens Adapter
This Nikon G to canon EF lens adapter works perfectly with my Sigma 35mm prime lens. This is the only way that I would have ever been able to use this lens with my Canon T6i camera or any of my other canon cameras. I suggest this adapter to anyone who has a Nikon lens, but only has Canon cameras or even has a Nikon lens and wants to try it out on a Canon camera. This lens works best with any Nikon lens.
This item works! Which for the money is unexpected ...
This item works! Which for the money is unexpected!A simple device that allows me to use my Nikon mount lenses on my EF mount cameras.A little tricky to get the positioning correct - but once you locate the aperture control then it clicks into place.
Attachment Creates a Manual Lens
The device doesn't come with any instructions so it took a while to figure out how to get it to attach. I realized you just line up the red dots as if you were attaching a lens to a camera body. One of the things I didn't consider was although it does adapt it to your camera, it creates a manual focus. Has taught me a lot though about getting the right shot and focus!
| Image | Lens | Mount | Filter Size (mm) |
| --- | --- | --- | --- |
| | 3M-5SA 500mm f/ 8.0 | Nikon F | 72 |
| | Access P-MC 35-70mm f/ 2.5-3.5 | Nikon F | 58 |
| | Access P-MC 70-210mm f/ 3.5 (one ring) | Nikon F | 62 |
| | Access P-MC 70-210mm f/ 3.5 (two rings) | Nikon F | 62 |
| | Admiral 100-500mm f/ 5.6-8 MC Macro | Nikon F | 72 |
| | Admiral G.M.C. 135mm f/ 2.8 | Nikon F | 55 |
| | Admiral MC Automatic 28mm f/ 2.8 | Nikon F | 52 |
| | Albinar ADG MC 80-200mm f/ 3.9 | Nikon F | 55 |
| | Angenieux 35-70mm f/ 2.5-3.3 | Nikon F | 58 |
| | APO ARSAT 300mm f/2.8 | Nikon F | 37 |
| Camera | Mount |
| --- | --- |
| Canon EOS 1000D/Rebel XS/Kiss F | Canon EF EF-S |
| Canon EOS 100D/Rebel SL1/Kiss X7 | Canon EF EF-S |
| Canon EOS 10D | Canon EF EF-S |
| Canon EOS 1100D/Rebel T3/Kiss X50 | Canon EF EF-S |
| Canon EOS 1200D/Rebel T5/Kiss X70 | Canon EF EF-S |
| Canon EOS 1300D/Rebel T6/Kiss X80 | Canon EF EF-S |
| Canon EOS 1500D/EOS 2000D/Rebel T7/Kiss X90 | Canon EF EF-S |
| Canon EOS 200D/Rebel SL2/Kiss X8 | Canon EF EF-S |
| Canon EOS 200D/Rebel SL2/Kiss X9 | Canon EF EF-S |
| Canon EOS 20D | Canon EF EF-S |
Best verkopende producten