Nikon F Lenzen voor Fuji X Camera Adapter
&Gratis verzending naar Netherlands, Belgium
Merk:

K&F Concept

Koop K&F Concept nikon f lenzen voor fuji x camera adapter online, gratis verzending en 30 dagen retourgarantie.

KF06.101

Beschikbaarheid:

Op voorraad

20.99

https://nl.kentfaith.com/KF06.101_nikon-ai-lenzen-op-fuji-x-camera-mount-adapter
Koop 2+ items en krijg
10% korting
!
Kenmerken
• Sta toe dat Nikon AI-lenzen worden gebruikt op de behuizing van de Fujifilm X-serie.
• Compatibel met Fujifilm-camera's: Fuji X-A1, X-A2, X-A3, X-E1, X-E2, X-E3, X-M1, X-Pro1, X-Pro2, X-S1, X-T1 , X-T10, X-T20, X-T2, X10, X20, X30, XF1, XQ1, XQ2 enz.
• Gemaakt van messing en aluminium. Stabiele, nauwkeurige en duurzame constructie. Handmatig bediend. Onbeperkte focus toegestaan.
• Voor lenzen van het zware mediumformaat, raden we aan te gebruiken met een telebeugel en een statief om het gewicht in evenwicht te brengen tijdens het maken van foto's.
• 30 dagen geen reden retour, 12 maanden kwaliteitsgarantie, 100% tevredenheidsgarantie.
Frequently Bought Together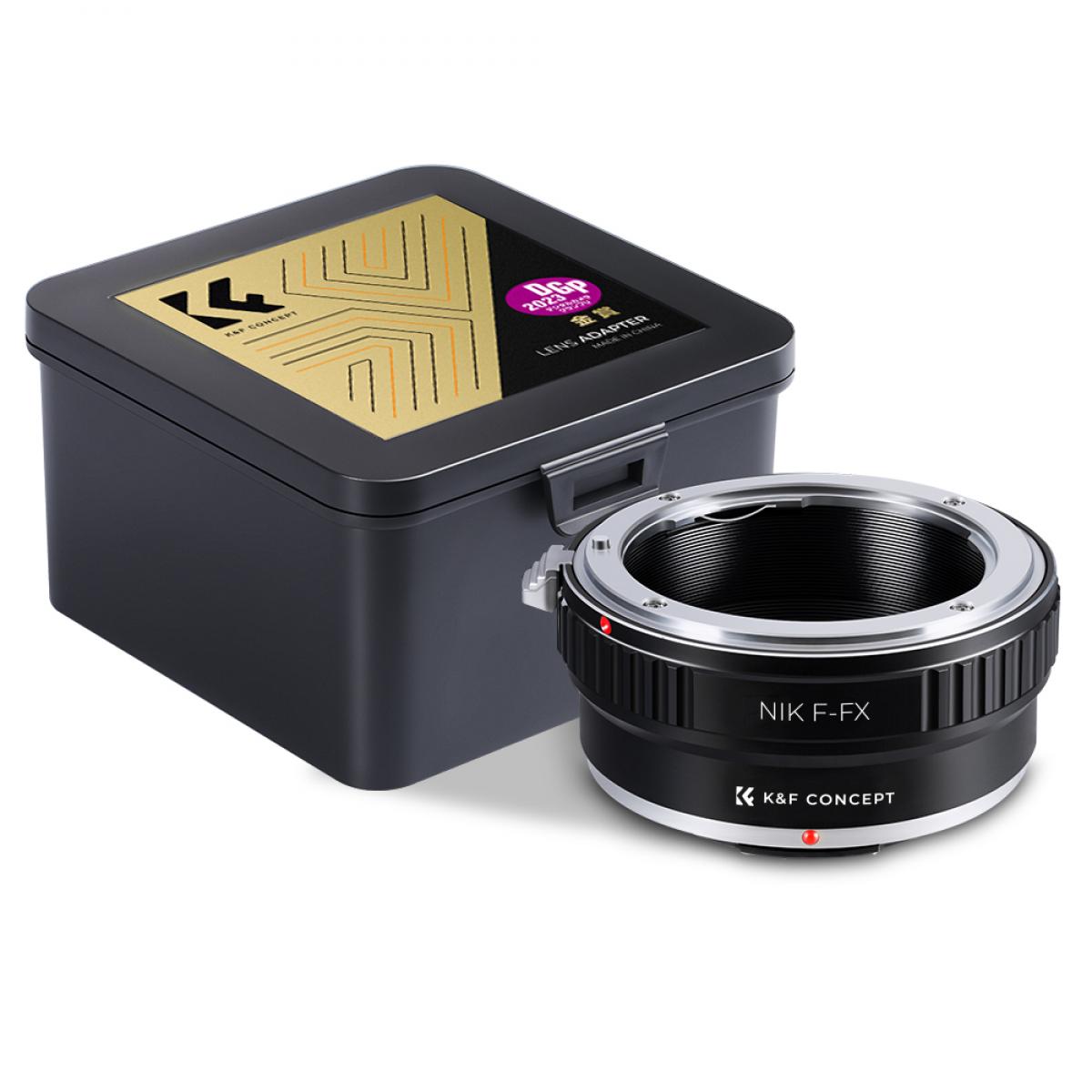 K & F Concept-ontwerp en produceren volledig assortiment lensadapters voor lenzen van Canon, Nikon, Pentax, Olympus, Leica, Contax Yashica, Minolta, Tamron, T2, C-vatting, Exakta, M39, M42, Pentacon enz. Gebruikt op cameralichamen van Canon , Nikon, Sony, Fujifilm, Pentax, Micro 4 3, Leica, M42, Cinema C-montage enz.

Very well constructed and achieves perfect focus with Nikon lens on Fuji camera.
Very well constructed. Nikon lens fits snugly and connection to Fuji camera is perfect. Focus is accurate. Resulting photographs are excellent.
Works well
Works well for adapting my nikon manual focus lenses.
Does exactly what you want, with good quality without high price.
Perfect fit, solid build and does what I expected. OK instructions, just needs trial and error as focussing and exposure need to be set manually.
Simple but works perfectly
This is the third one of these adaptors I have purchased, all K&F. As the first one (MD Minolta) worked fine why risk a cheaper version that may not. The second one was the classic M42 which has the most lenses available, EBAY is a source as are car boots and junk shops. The third one I have just bought is the Nikon adaptor. I have to say this one was super tight but it worked fine. It look several trips out to get the art of manual focusing but with Fuji's peak focusing system (where it highlights what's in focus) it became much easier. Use your feet as well as the focus ring. I was disappointed to start with but now I have a good chance of getting a good image in focus. The Fujinon lenses are superb of course so why bother? Well firstly making it more difficult is more satisfying when you get it right. Old lenses do have more character and are likely to produce a more artistic result. If you want the exact replication of what you are looking at then it is probably not worth the effort. It is a little like waiting for those photos to arrive by post, you may have something really special and unexpectedly good. It is not always possible to tell on the LCD screen. Have fun perhaps but don't take them to that important wedding.
Gut und relativ günstig
Schreib zwar selten Rezensionen, muss mal die Leute von K&F Concept trotzdem loben, da ich mittlerweile ein gutes Dutzend ihrer Adapter verwende (ja, ich bin ein Vintage-Lens-Junkie) und die Dinger a) gut funktionieren b) von guter Qualität und c) im Vergleich zu Metabones günstig genug sind, dass man für jedes Objektiv einen kaufen und den auch drauf lassen kann.
These images belong to K&F Concept end users.
| Image | Lens | Mount | Filter Size (mm) |
| --- | --- | --- | --- |
| | 3M-5SA 500mm f/ 8.0 | Nikon F | 72 |
| | Access P-MC 35-70mm f/ 2.5-3.5 | Nikon F | 58 |
| | Access P-MC 70-210mm f/ 3.5 (one ring) | Nikon F | 62 |
| | Access P-MC 70-210mm f/ 3.5 (two rings) | Nikon F | 62 |
| | Admiral 100-500mm f/ 5.6-8 MC Macro | Nikon F | 72 |
| | Admiral G.M.C. 135mm f/ 2.8 | Nikon F | 55 |
| | Admiral MC Automatic 28mm f/ 2.8 | Nikon F | 52 |
| | Albinar ADG MC 80-200mm f/ 3.9 | Nikon F | 55 |
| | Angenieux 35-70mm f/ 2.5-3.3 | Nikon F | 58 |
| | APO ARSAT 300mm f/2.8 | Nikon F | 37 |
| Camera | Mount |
| --- | --- |
| Fujifilm X-A1 | Fuji X |
| Fujifilm X-A10 | Fuji X |
| Fujifilm X-A2 | Fuji X |
| Fujifilm X-A3 | Fuji X |
| Fujifilm X-A5 | Fuji X |
| Fujifilm X-E1 | Fuji X |
| Fujifilm X-E2 | Fuji X |
| Fujifilm X-E2s | Fuji X |
| Fujifilm X-E3 | Fuji X |
| Fujifilm X-H1 | Fuji X |
Best verkopende producten